According to the National Institute of Diabetes and Digestive and Kidney Disease, about 70% of diabetics have neuropathy. This inability to feel their feet could result in other infections as well. With diabetes, you are at an increased risk of ulcers, calluses, and blisters. Even the tiniest cut can lead to serious complications. With nerve damage, you may be unable to feel and treat such injuries properly. You may need professional diabetic foot care in Las Vegas to help manage it.
There are plenty of steps that you can implement at home to keep your feet in good condition, including the following.
Regular Foot Inspections
Diabetes causes nerve damage making it hard to notice when you have cuts, sores, cracks, or redness in the feet. Do your best to find them and treat them before they can cause infections.
Wear Shoes with Good Coverage
Do not leave the house without a good pair of shoes. They will protect you from cuts and bruises. Even in the house, your feet may be at risk of penetration and scrapes. Consider wearing orthotic footwear for increased protection. Orthotic shoes are made for people with diabetes, and you can find them in most specialty stores.
Low-Impact Exercise
Even though exercise is important, you should do it in moderation. Speak with your doctor about the exercise options that are safe for you. Generally, you should avoid exercises that impact your feet significantly. This includes exercises such as leaping, jumping, and aerobics. Some of the best exercise options include walking and swimming.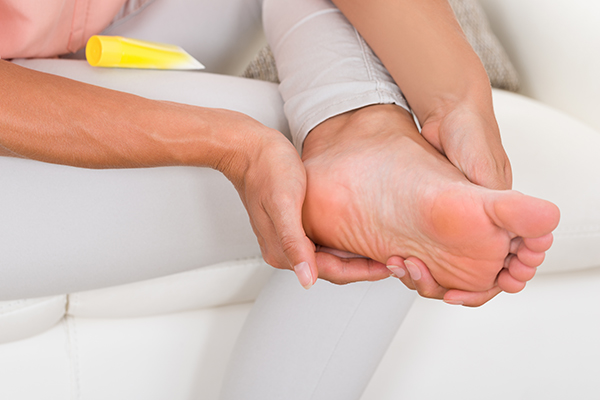 Rather Than Hot Water
Bath in Lukewarm Rather Than Hot Water
If you have neuropathy, the temperature while bathing your feet should be warm, but not hot. It should be warm enough to use on newborn babies. Do not use your feet to test the water temperature. With neuropathy, you may not realize how hot it is. If the water is hot, it could lead to blisters or burns.
Don't Moisturize Between the Toes
Even though moisturizing your feet daily is a good idea, you should avoid moisturizing between the toes because it could lead to fungal infections. Another way to reduce infections is by wearing clean, dry socks.
Seek Help for Calluses or Corns
If you have corn or calluses, seek professional help. Do not try treating them on your own.
Stop Smoking
Smoking is bad for your health, especially if you are diabetic. It damages and constricts blood vessels which means your feet may be deprived of blood that is rich in nutrients and oxygen.
This makes it difficult to fight infections. If you have trouble quitting on your own, seek professional help.
Consult Your Care Team Often
Check-in with your diabetes care team as often as you can. They will help you stay healthy. Your care team may give you tips to care for your feet, maintain healthy blood pressure, or aid in efforts to stop smoking.
Dealing with diabetes can be difficult, and you are likely to experience some problems with your feet. It also increases your risk for blisters, ulcers, and high blood pressure. Fortunately, there are plenty of ways to care for your feet and help keep them in good shape.